---
MPI-3.1:



Up:
Contents
Next:
Introduction to MPI
Previous:
MPI-3.0:
MPI-3.1 is a minor update to the MPI Standard.
The editors and organizers of the MPI-3.1 have been:
Martin Schulz, MPI-3.1 chair
William Gropp, Steering committee, Front matter, Introduction, One-Sided Communications, and Bibliography; Overall editor
Rolf Rabenseifner, Steering committee, Terms and Definitions, and Fortran Bindings, Deprecated Functions, Annex Change-Log, and Annex Language Bindings
Richard L. Graham, Steering committee, Meeting Convener
Jeffrey M. Squyres, Language Bindings and MPI-3.1 Secretary
Daniel Holmes, Point-to-Point Communication
George Bosilca, Datatypes and Environmental Management
Torsten Hoefler, Collective Communication and Process Topologies
Pavan Balaji, Groups, Contexts, and Communicators, and External Interfaces
Jeff Hammond, The Info Object
David Solt, Process Creation and Management
Quincey Koziol, I/O
Kathryn Mohror, Tool Support
Rajeev Thakur, One-Sided Communications

The following list includes some of the active participants who attended MPI Forum meetings or participated in the e-mail discussions.
Charles Archer
Pavan Balaji
Purushotham V. Bangalore
Brian Barrett
Wesley Bland
Michael Blocksome
George Bosilca
Aurelien Bouteiller
Devendar Bureddy
Yohann Burette
Mohamad Chaarawi
Alexey Cheptsov
James Dinan
Dmitry Durnov
Thomas Francois
Edgar Gabriel
Todd Gamblin
Balazs Gerofi
Paddy Gillies
David Goodell
Manjunath Gorentla Venkata
Richard L. Graham
Ryan E. Grant
William Gropp
Khaled Hamidouche
Jeff Hammond
Amin Hassani
Marc-André Hermanns
Nathan Hjelm
Torsten Hoefler
Daniel Holmes
Atsushi Hori
Yutaka Ishikawa
Hideyuki Jitsumoto
Jithin Jose
Krishna Kandalla
Christos Kavouklis
Takahiro Kawashima
Chulho Kim
Michael Knobloch
Alice Koniges
Quincey Koziol
Sameer Kumar
Joshua Ladd
Ignacio Laguna
Huiwei Lu
Guillaume Mercier
Kathryn Mohror
Adam Moody
Tomotake Nakamura
Takeshi Nanri
Steve Oyanagi
Antonio J. P ena
Sreeram Potluri
Howard Pritchard
Rolf Rabenseifner
Nicholas Radcliffe
Ken Raffenetti
Raghunath Raja
Craig Rasmussen
Davide Rossetti
Kento Sato
Martin Schulz
Sangmin Seo
Christian Siebert
Anthony Skjellum
Brian Smith
David Solt
Jeffrey M. Squyres
Hari Subramoni
Shinji Sumimoto
Alexander Supalov
Bronis R. de Supinski
Sayantan Sur
Masamichi Takagi
Keita Teranishi
Rajeev Thakur
Fabian Tillier
Yuichi Tsujita
Geoffroy Vallée
Rolf vandeVaart
Akshay Venkatesh
Jerome Vienne
Venkat Vishwanath
Anh Vo
Huseyin S. Yildiz
Junchao Zhang
Xin Zhao
The MPI Forum also acknowledges and appreciates the valuable input from people via e-mail and in person.
The following institutions supported the MPI-3.1 effort through time and travel support for the people listed above.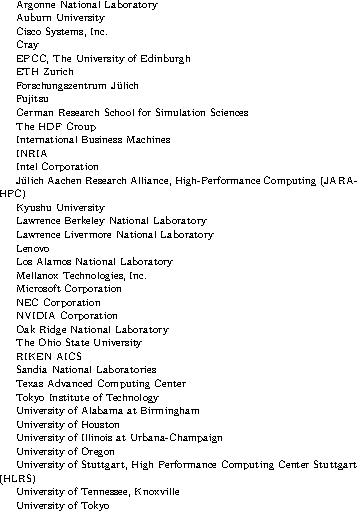 ---



Up:
Contents
Next:
Introduction to MPI
Previous:
MPI-3.0:
---
Return to MPI-3.1 Standard Index
Return to MPI Forum Home Page

---
(Unofficial) MPI-3.1 of June 4, 2015
HTML Generated on June 4, 2015