---
MPI-3.0:



Up:
Contents
Next:
MPI-3.1:
Previous:
MPI-2.2:
MPI-3.0 is a signficant effort to extend and modernize the MPI Standard.
The editors and organizers of the MPI-3.0 have been:
William Gropp, Steering committee, Front matter, Introduction, Groups, Contexts, and Communicators, One-Sided Communications, and Bibliography
Richard Graham, Steering committee, Point-to-Point Communication, Meeting Convener, and MPI-3.0 chair
Torsten Hoefler, Collective Communication, One-Sided Communications, and Process Topologies
George Bosilca, Datatypes and Environmental Management
David Solt, Process Creation and Management
Bronis R. de Supinski, External Interfaces and Tool Support
Rajeev Thakur, I/O and One-Sided Communications
Darius Buntinas, Info Object
Jeffrey M. Squyres, Language Bindings and MPI-3.0 Secretary
Rolf Rabenseifner, Steering committee, Terms and Definitions, and Fortran Bindings, Deprecated Functions, Annex Change-Log, and Annex Language Bindings
Craig Rasmussen, Fortran Bindings

The following list includes some of the active participants who attended MPI-3 Forum meetings or participated in the e-mail discussions and who are not mentioned above.
Tatsuya Abe
Tomoya Adachi
Sadaf Alam
Reinhold Bader
Pavan Balaji
Purushotham V. Bangalore
Brian Barrett
Richard Barrett
Robert Blackmore
Aurelien Bouteiller
Ron Brightwell
Greg Bronevetsky
Jed Brown
Darius Buntinas
Devendar Bureddy
Arno Candel
George Carr
Mohamad Chaarawi
Raghunath Raja Chandrasekar
James Dinan
Terry Dontje
Edgar Gabriel
Balazs Gerofi
Brice Goglin
David Goodell
Manjunath Gorentla
Erez Haba
Jeff Hammond
Thomas Herault
Marc-André Hermanns
Jennifer Herrett-Skjellum
Nathan Hjelm
Atsushi Hori
Joshua Hursey
Marty Itzkowitz
Yutaka Ishikawa
Nysal Jan
Bin Jia
Hideyuki Jitsumoto
Yann Kalemkarian
Krishna Kandalla
Takahiro Kawashima
Chulho Kim
Dries Kimpe
Christof Klausecker
Alice Koniges
Quincey Koziol
Dieter Kranzlmueller
Manojkumar Krishnan
Sameer Kumar
Eric Lantz
Jay Lofstead
Bill Long
Andrew Lumsdaine
Miao Luo
Ewing Lusk
Adam Moody
Nick M. Maclaren
Amith Mamidala
Guillaume Mercier
Scott McMillan
Douglas Miller
Kathryn Mohror
Tim Murray
Tomotake Nakamura
Takeshi Nanri
Steve Oyanagi
Mark Pagel
Swann Perarnau
Sreeram Potluri
Howard Pritchard
Rolf Riesen
Hubert Ritzdorf
Kuninobu Sasaki
Timo Schneider
Martin Schulz
Gilad Shainer
Christian Siebert
Anthony Skjellum
Brian Smith
Marc Snir
Raffaele Giuseppe Solca
Shinji Sumimoto
Alexander Supalov
Sayantan Sur
Masamichi Takagi
Fabian Tillier
Vinod Tipparaju
Jesper Larsson Träff
Richard Treumann
Keith Underwood
Rolf Vandevaart
Anh Vo
Abhinav Vishnu
Min Xie
Enqiang Zhou
The MPI Forum also acknowledges and appreciates the valuable input from people via e-mail and in person.
The MPI Forum also thanks those that provided feedback during the public comment period. In particular, the Forum would like to thank Jeremiah Wilcock for providing detailed comments on the entire draft standard.
The following institutions supported the MPI-3 effort through time and travel support for the people listed above.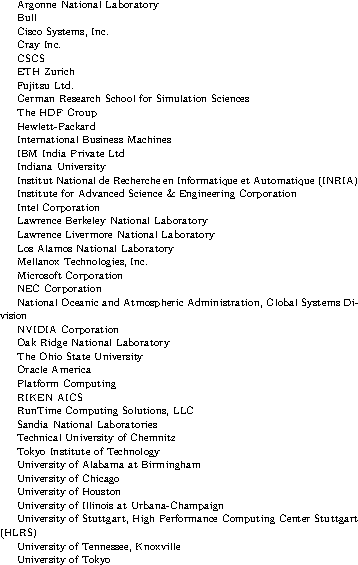 Funding for the MPI Forum meetings was partially supported by awards #CCF-0816909 and #CCF-1144042 from the National Science Foundation. In addition, the HDF Group and Sandia National Laboratories provided travel support for one U.S. academic each.
---



Up:
Contents
Next:
MPI-3.1:
Previous:
MPI-2.2:
---
Return to MPI-3.1 Standard Index
Return to MPI Forum Home Page

---
(Unofficial) MPI-3.1 of June 4, 2015
HTML Generated on June 4, 2015