---
MPI-1.3 and MPI-2.1:



Up:
Contents
Next:
MPI-2.2:
Previous:
MPI-1.2 and MPI-2.0:
The editors and organizers of the combined documents have been:
Richard Graham, Convener and Meeting Chair
Jack Dongarra, Steering Committee
Al Geist, Steering Committee
Bill Gropp, Steering Committee
Rainer Keller, Merge of MPI-1.3
Andrew Lumsdaine, Steering Committee
Ewing Lusk, Steering Committee, MPI-1.1-Errata (Oct. 12, 1998) MPI-2.1-Errata Ballots 1, 2 (May 15, 2002)
Rolf Rabenseifner, Steering Committee, Merge of MPI-2.1 and MPI-2.1-Errata Ballots 3, 4 (2008)

All chapters have been revisited to achieve a consistent MPI-2.1 text. Those who served as authors for the necessary modifications are:
Bill Gropp, Front matter, Introduction, and Bibliography
Richard Graham, Point-to-Point Communication
Adam Moody, Collective Communication
Richard Treumann, Groups, Contexts, and Communicators
Jesper Larsson Träff, Process Topologies, Info-Object, and One-Sided Communications
George Bosilca, Environmental Management
David Solt, Process Creation and Management
Bronis R. de Supinski, External Interfaces, and Profiling
Rajeev Thakur, I/O
Jeffrey M. Squyres, Language Bindings and MPI-2.1 Secretary
Rolf Rabenseifner, Deprecated Functions and Annex Change-Log
Alexander Supalov and Denis Nagorny, Annex Language Bindings

The following list includes some of the active participants who attended MPI-2 Forum meetings and in the e-mail discussions of the errata items and are not mentioned above.
| | | |
| --- | --- | --- |
| Pavan Balaji | Purushotham V. Bangalore | Brian Barrett |
| Richard Barrett | Christian Bell | Robert Blackmore |
| Gil Bloch | Ron Brightwell | Jeffrey Brown |
| Darius Buntinas | Jonathan Carter | Nathan DeBardeleben |
| Terry Dontje | Gabor Dozsa | Edric Ellis |
| Karl Feind | Edgar Gabriel | Patrick Geoffray |
| David Gingold | Dave Goodell | Erez Haba |
| Robert Harrison | Thomas Herault | Steve Hodson |
| Torsten Hoefler | Joshua Hursey | Yann Kalemkarian |
| Matthew Koop | Quincey Koziol | Sameer Kumar |
| Miron Livny | Kannan Narasimhan | Mark Pagel |
| Avneesh Pant | Steve Poole | Howard Pritchard |
| Craig Rasmussen | Hubert Ritzdorf | Rob Ross |
| Tony Skjellum | Brian Smith | Vinod Tipparaju |
| Jesper Larsson Träff | Keith Underwood | |
The MPI Forum also acknowledges and appreciates the valuable input from people via e-mail and in person.
The following institutions supported the MPI-2 effort through time and travel support for the people listed above.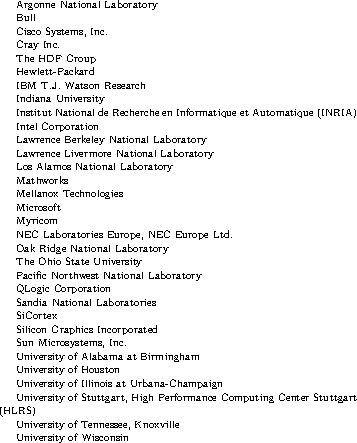 Funding for the MPI Forum meetings was partially supported by award #CCF-0816909 from the National Science Foundation. In addition, the HDF Group provided travel support for one U.S. academic.
---



Up:
Contents
Next:
MPI-2.2:
Previous:
MPI-1.2 and MPI-2.0:
---
Return to MPI-3.1 Standard Index
Return to MPI Forum Home Page

---
(Unofficial) MPI-3.1 of June 4, 2015
HTML Generated on June 4, 2015